Sound quality is affected by static electricity…
The world's first antistatic brush made exclusively for audio equipment, made with ultra fine "static neutralizing" fibers with a 0.03 diameter for the finest quality of softness, assembled at the hands of Kumano Brush craftsmen.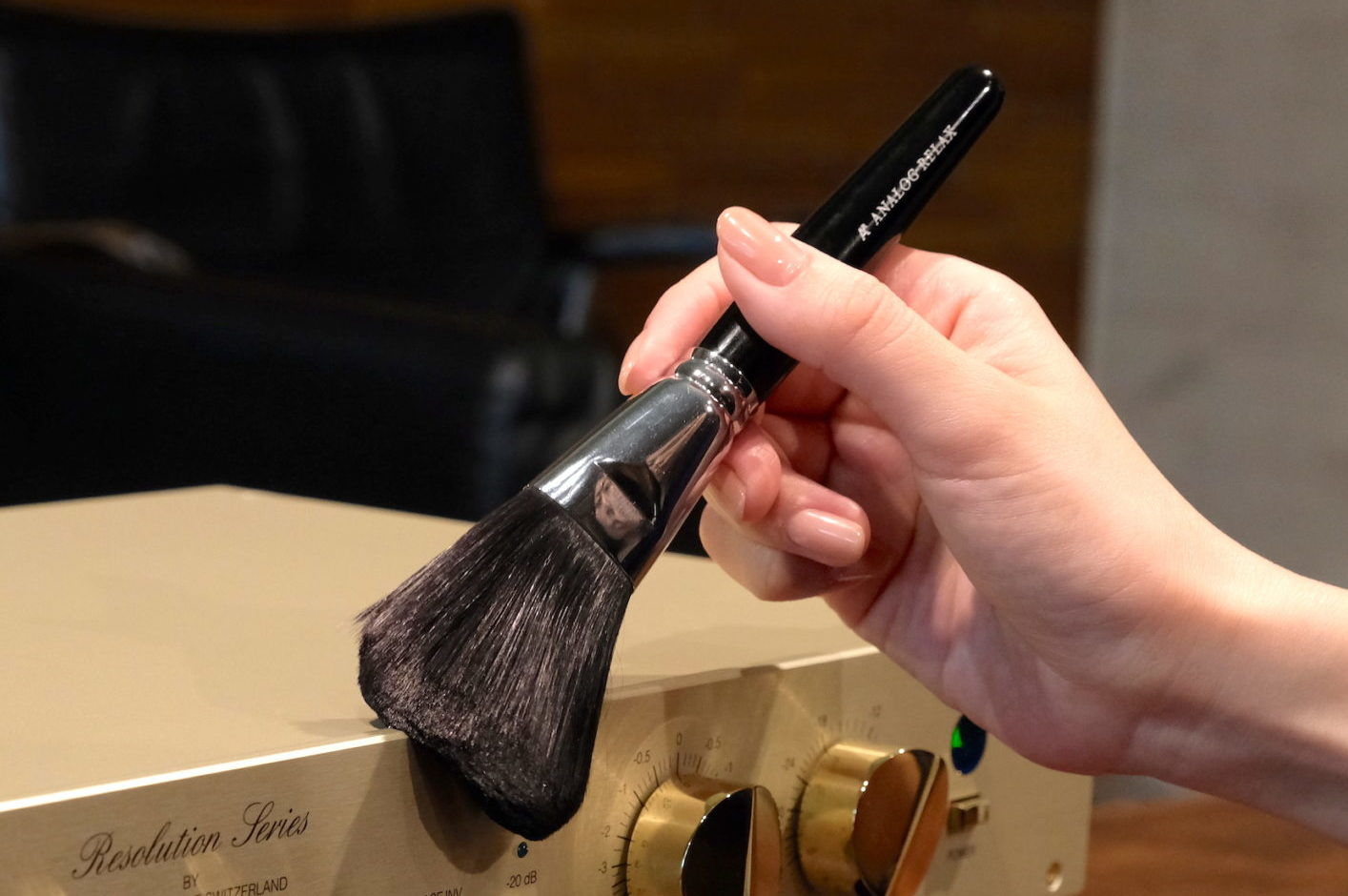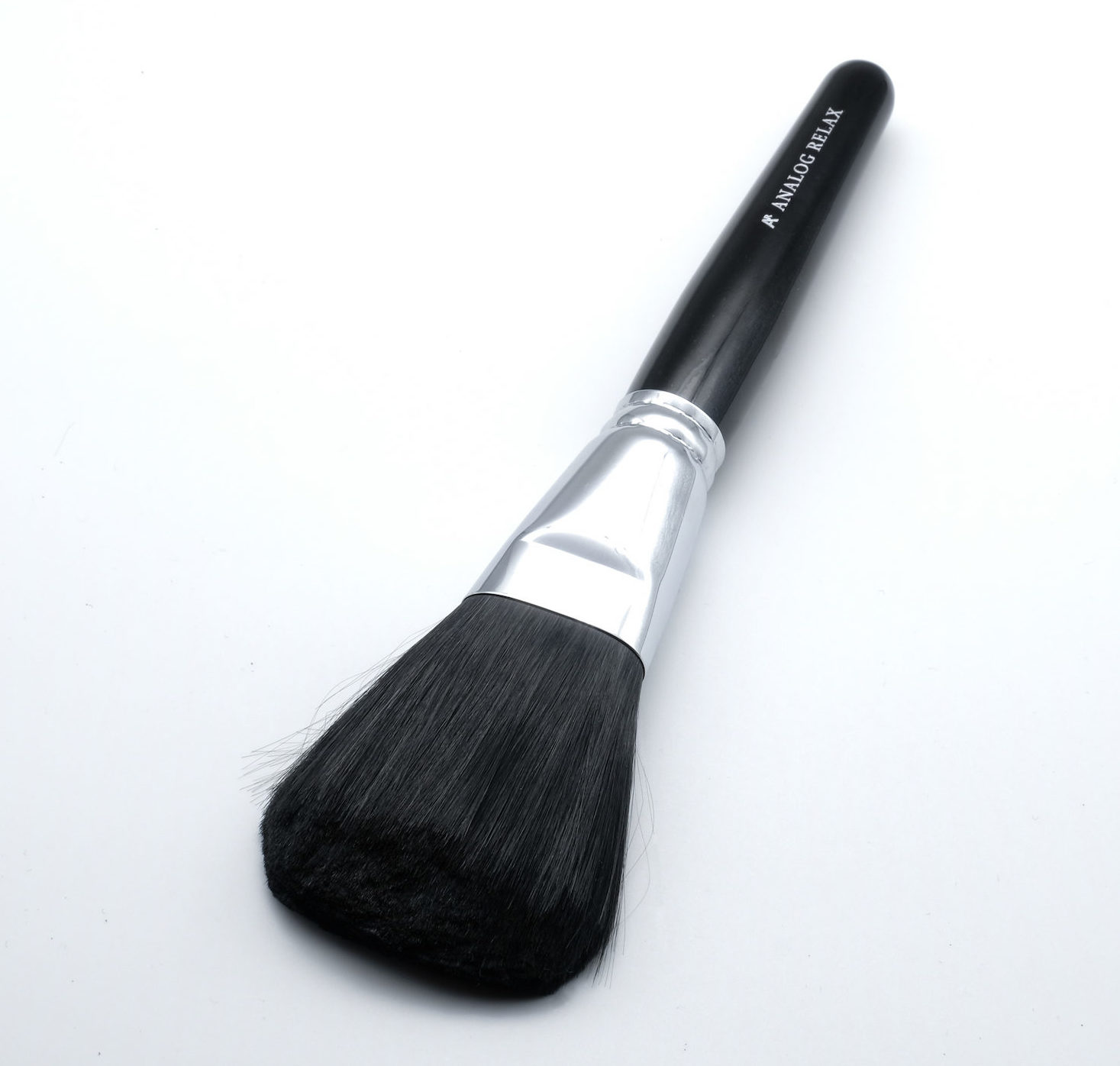 At some point, dust tends to accumulate in places like on the top and front of tone arms and amplifiers. How frustrating is it when, no matter how well you clean, there are some hard to reach places you just cannot get to, right?
In this way, I used to be someone that felt that too.
This dust is actually drawn there by the electrostatic charge in your audio equipment. 
You are probably aware of this already, but audio equipment runs on electricity, and has moving parts such as tone arms, turntables, and CD trays.
For that reason, audio equipment is destined to be electrostatically charged, as it constantly produces its own static electricity.
Normally, there's a mechanism in place to ground static electricity from a power supply. Unfortunately, in many cases, besides a small portion of refrigerators and washings machines within the common household, audio equipment will be continuously electrostatically charged as they are often not fully grounded.
As a result, not only does the static electricity cause dust to accumulate, but the electrostatic charge will cause your audio equipment to be unable to demonstrate its true capabilities. A phenomenon then occurs where you will continue to listen to your audio in a state of reduced sound quality.
In this way, your audio equipment will remain constantly affected by this electrostatic charge unbeknownst to you.
You should rid your equipment of static electricity as soon as possible!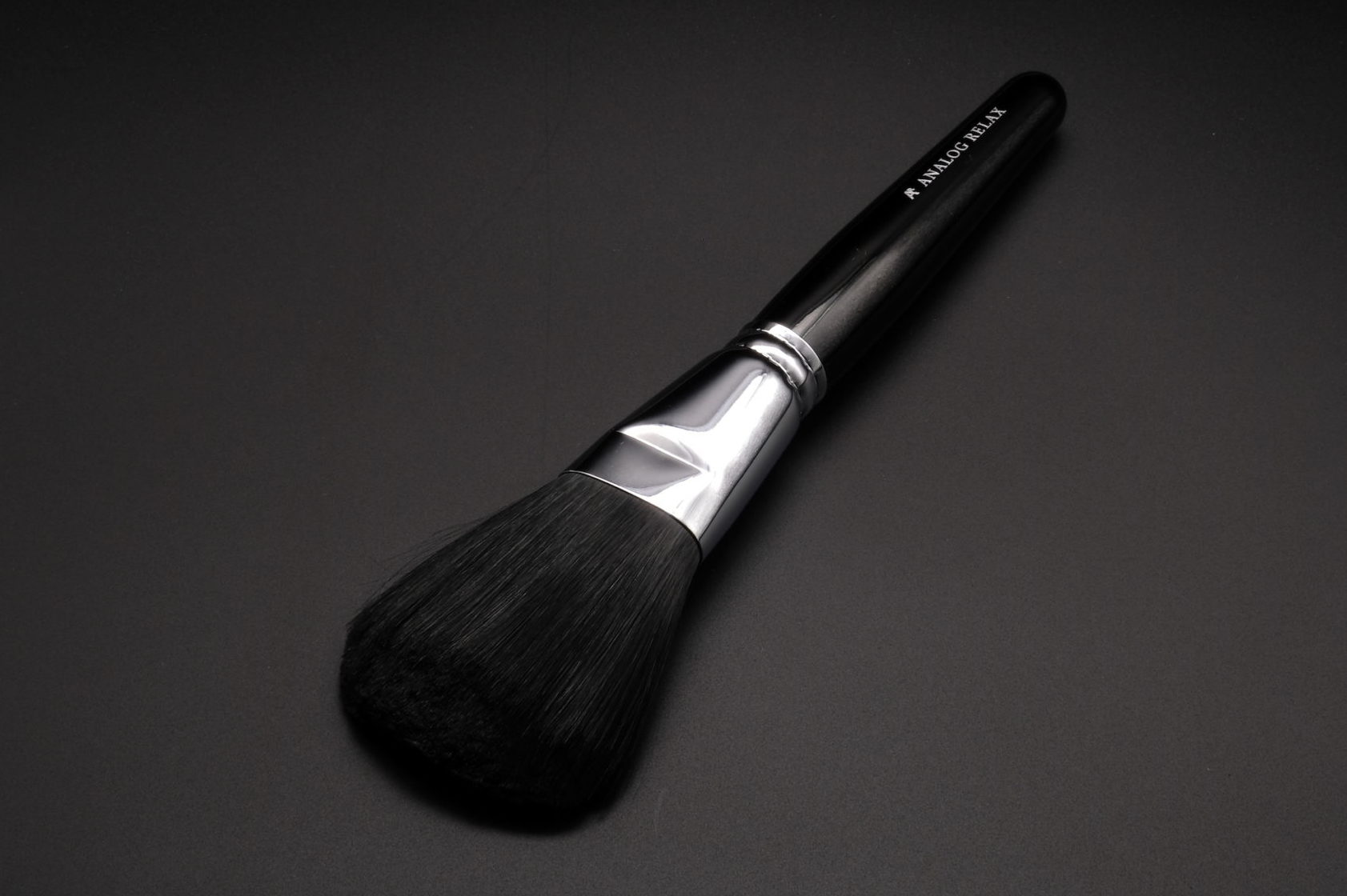 The "Analog Relax Anti-Static Brush for Audio Equipment" will effectively remove any electrostatic charge from your audio equipment and brush out any accumulated dust.
The "Analog Relax Anti-Static Brush AR-ASRB1" was specially tailored for ease of use to clean audio equipment, and has also been well received for its use on vinyl records.
(Although it is labeled "for audio equipment," you can also certainly use it for "software" such as vinyl records and CDs.)
The production of this brush was entrusted to the "Kumano Brush" craftsmen, famously known for their luxury cosmetic brushes in Japan.
Along with the finest quality of softness and the perfect R (curved surface) made by the tip of the brush hairs, the finishing touches of this product make it incredibly easy to work with.
Do not delay and remove the electrostatic charge and dust from your audio equipment with certainty using this brush.
And restore the original capabilities and sound quality of your beloved equipment.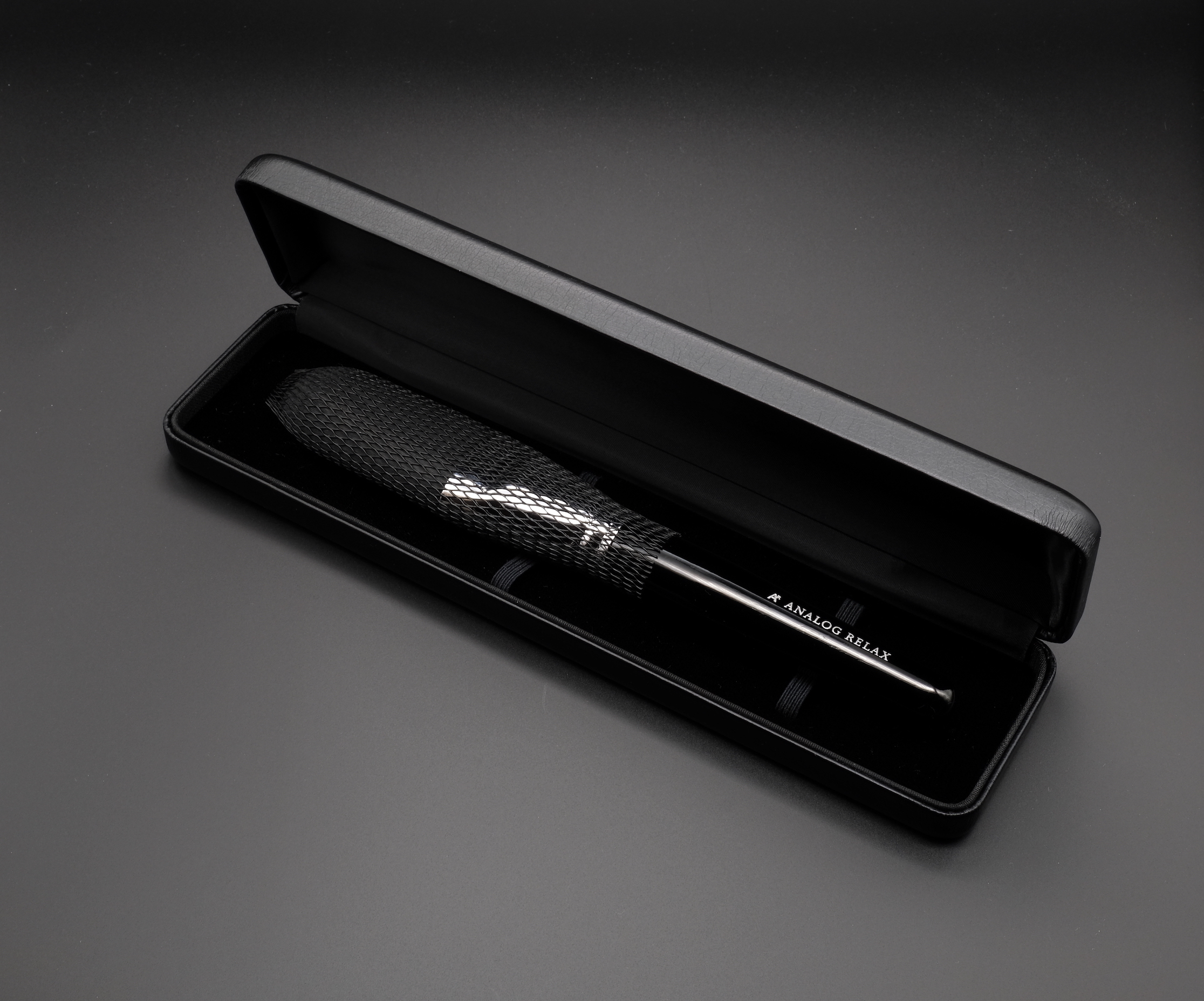 "Analog Relax Anti-Static Brush for Audio Equipment" Features
1. Uses 100% Ultra Fine "Antistatic" Fibers
By using 0.03 mm "Corebrid TM B" ultra fine antistatic fibers (developed by Mitsubishi Chemical Corp.), you can even remove the electrostatic charge in the gaps of the intricate parts of your audio equipment.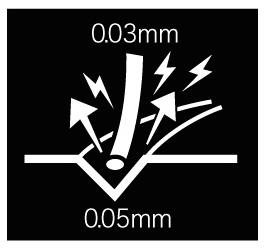 In fact, the antistatic fiber is actually an acrylic fiber with a diameter of 0.03 mm, but it is "hollow" and contains a conductive substance.
This causes the electrostatic charge to be drawn out of your equipment, as it is designed to be static neutralizing by causing a corona discharge into the surrounding air.
Because this brush contains no other synthetic fibers or animal hairs, it is a specially made product with an excellent static neutralizing effect by using only 100% antistatic fibers.
2. Brush Away Any and All Dust
The microscopic irregularities on the surface of the fibers manifests a powerful "wiping effect" that will gather and efficiently remove all dust.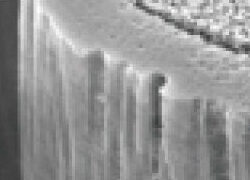 3. Handmade by Kumano Brush Craftsmen with a Soft Finish to Prevent Damage to your Audio Equipment
Each brush was delicately handmade one by one by the efforts of the world famous "Kumano Brush" craftsmen, renowned for their luxury cosmetic brushes.
You will immediately understand the ultimate soft finish of this custom made brush just by giving it a feel. Rest assured that your precious audio equipment will not be damaged by using it.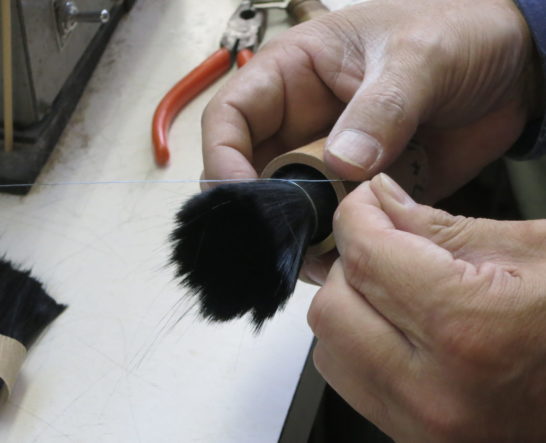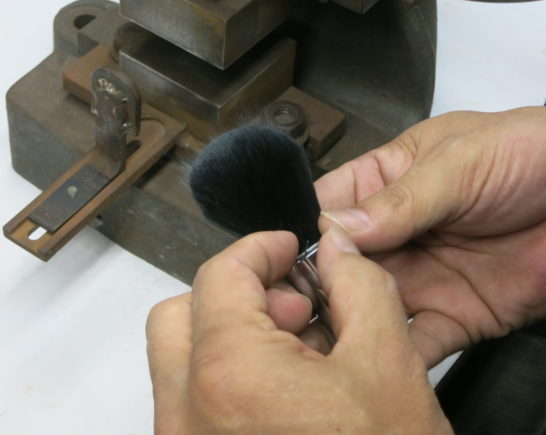 4. Treated with a "SI (Surface Increase) Finish" to Further Improve the Antistatic and Dust Removal Performance
In order to further boost the performance capabilities, we have applied our original finish treatment that increases the surface area of the fibers at the tip of the brush.
5. Safety Measures
The currently available Antistatic brushes that utilize "conductive coated fiber" or "carbon fiber" exhibit highly conductive properties, which may cause short circuits or similar problems if the fibers are inserted into the inner portions of your audio equipment.
However, the ultra fine "Corebrid TM B" antistatic fibers used in our Analog Relax Anti-Static Brush are designed with safety in mind to have low conductivity to provide peace of mind in case of any emergency.
6. A "Flexible Net" to Adjust the bounce of the Brush Tip
Includes a net that can be set midway along the brush tip that will allow you to adjust the exposed portion of the brush fibers. This can also be used to protect the brush tip during storage.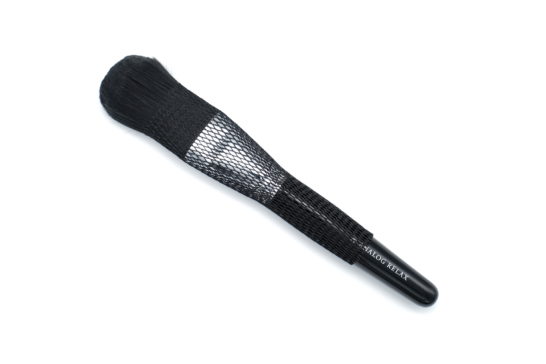 7. Exclusive Storage Case Included
Includes an exclusive luxury case to prevent dust accumulation when storing.
The "Analog Relax Anti-Static Brush AR-ASRB1" can also fit to store everything together in one case.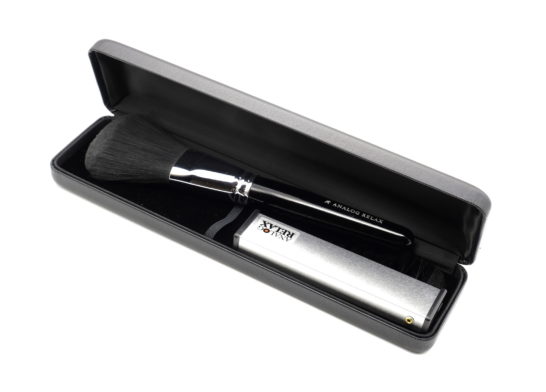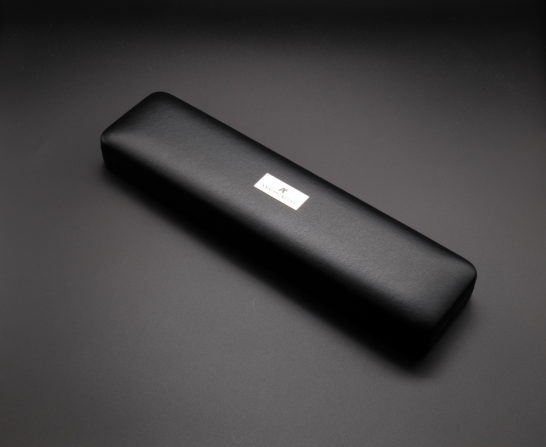 ("Corebrid TM" is a registered trademark of Mitsubishi Chemical Corp.)
Recommended Audio Equipment and Parts to Remove Electrostatic Charge From
Improve sound quality by neutralizing the electrostatic charge and cleaning the audio equipment and parts listed below.
・Speakers Units (Woofers, Squawkers, and Tweeters)
You can neutralize static and clean the delicate diaphragm portions of your audio equipment in a safe and neat manner.
(Never use on Ribbon Diaphragm types)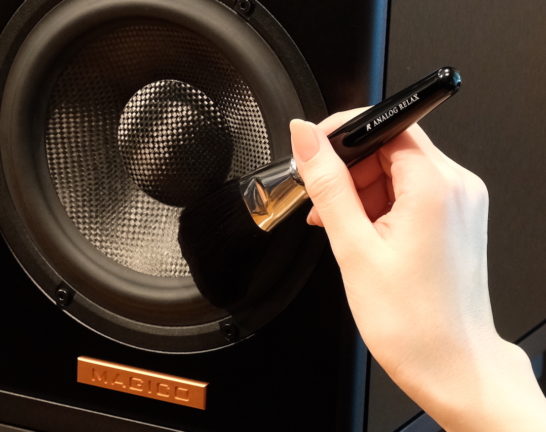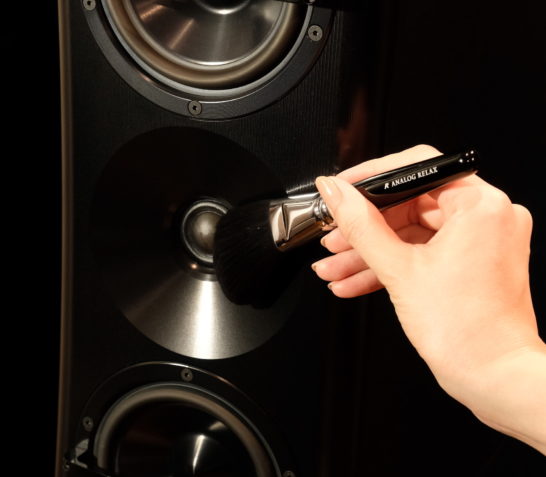 ・The Tray Portion of Things like your CD or Blu-ray Player
Use it to clean and neutralize electrostatic charge of CD trays, which are prone to static electricity and also have a large impact on sound quality.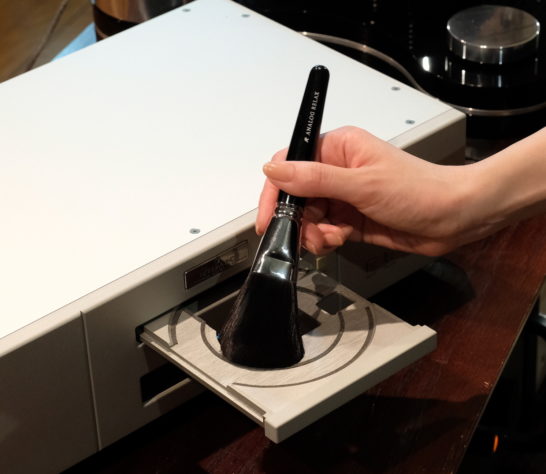 ・Equipment Chassis and Rear Panel Connectors
You can use it to neutralize static and clean the chassis and connectors of things like amplifiers, CD players, and more.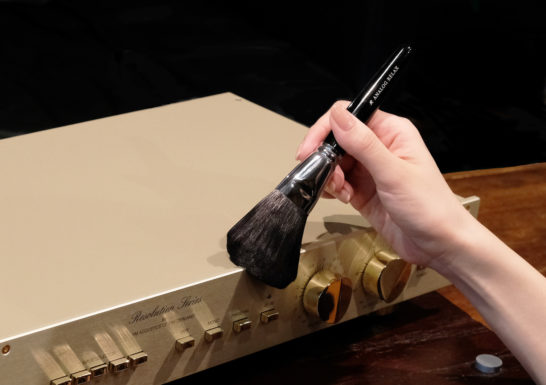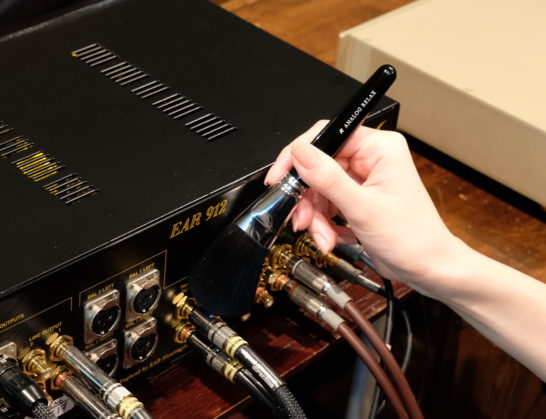 ・Record Players (Turntables, Tone Arms, and Headshells)
Use it to clean tone arms, which are known to be delicate and difficult to clean, in a safe and neat manner and neutralize any electrostatic charge at the same time.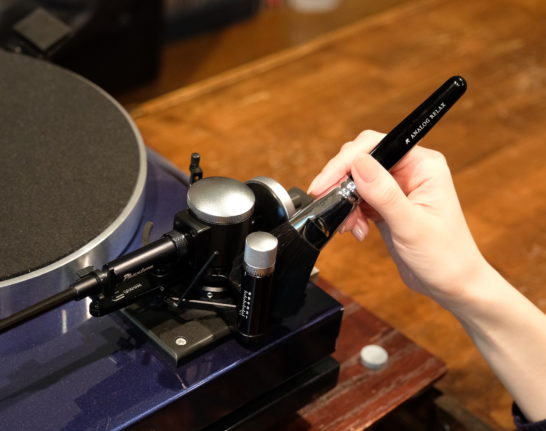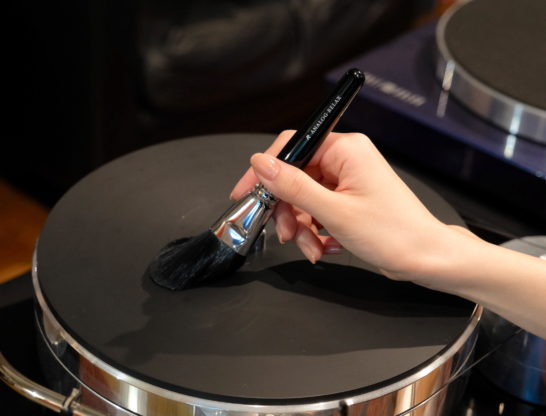 ・Cables (Line Cables, Speaker Cables, Digital Cables, etc.)
You can use it to clean and neutralize the electrostatic charge of cables, which are significantly prone to the adverse effects of static electricity.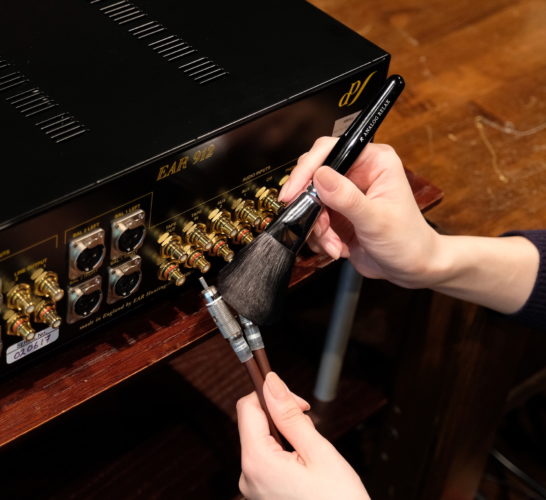 ・Tube Amplifiers
Use it to safely and neatly clean around vacuum tubes, which are known to be hard to clean. (Be sure to clean while the power is turned off.)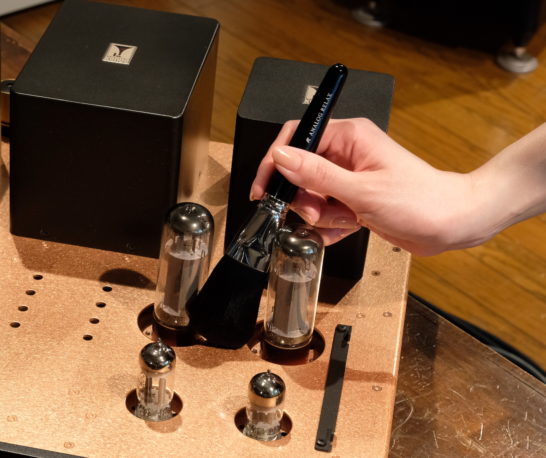 ・Also, Great for Digital Devices
Our customers are saying that our brush also works amazingly to neutralize electrostatic charge in digital devices (DACs, digital streaming players, etc.)! We have received many kind reviews such as this.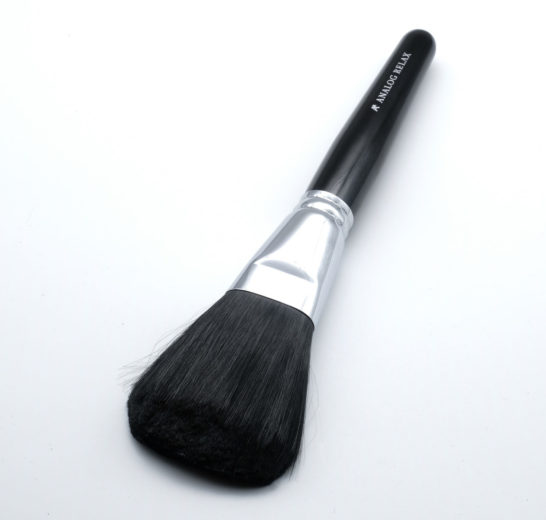 Our product was developed based on the feedback we received from our customers.
Our "Analog Relax Anti-Static Brush AR-ASRB1" is finding itself very popular even today, and we have received many emails and letters from those who have purchased it.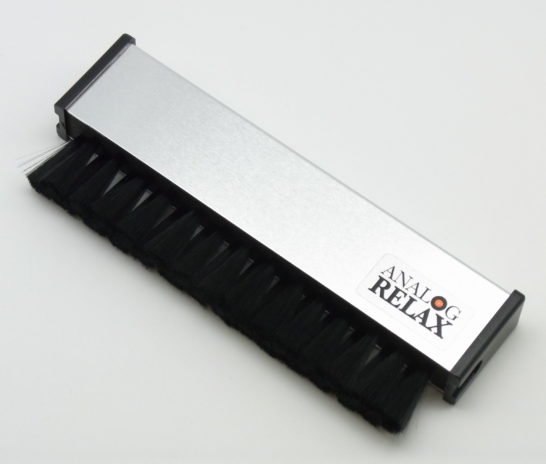 We developed this brush with the goal to remove "dust accumulated by static electricity on vinyl records," but the feedback we received was unexpected.
Our customers, of course, praised the effectiveness of our product at removing electrostatically accumulated dust from vinyl records, but we received a great number of comments saying that the brush "improved the sound quality of our records!"
"I tried cleaning CDs with it, and it even improved their sound quality!"

"If you gently brush the tone arm with this brush, it will improve the sound quality!"

"It works great to neutralize static electricity on the chassis of my amplifier!"

"I wish for a brush with an easy to use design for audio equipment!"
However, the Analog Relax Anti-Static Brush AR-ASRB1 was designed specifically for vinyl records, so it was said to be quite difficult to use it for audio equipment.
Therefore, we designed a "cosmetic brush" type that made it easy to use on audio equipment, and we also decided to ask the Kumano Brush craftsmen to produce them.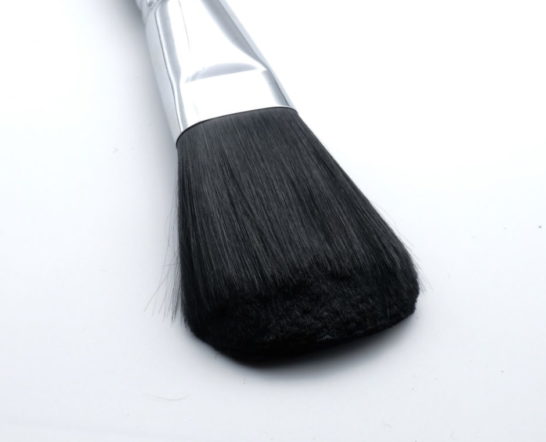 Approximately three times the amount of fibers!
Just by feeling the fibers once, you will experience the softness and pleasantness of this brush.
Free your precious equipment from the adverse effects of static electricity with this brush.
Product Specifications
Product Name: Anti-Static Brush for Audio Equipment

Fiber Material: Antistatic Acrylic Fiber

Handle Material: Aluminum and Wood

Brush Size: Length: 187 mm, Fiber Length: 55 mm, Metal Fixture Width: 30 mm

Exclusive Cosmetic Storage Case Size: 230 mm x 58 mm x 28 mm

Product Number: AR-ASAB1