ZOOT Communication LLC,
Yasushi Yurugi, Analog Producer
Super analog lover who loves analog records and coffee (and recently, bicycles as well) more than anything else.
Digital is great because it's the latest! I feel a bit strange about such a trend in the society.
Of course I acknowledge the convenience of digital technology. But is it really true that "digital is cutting-edge, so it's great…!" I don't agree with that kind of thinking that is too simplistic.
Rather, I think that the world has become too efficiency-oriented through digitization, and the society is experiencing many of its negative aspects.
・Working and learning environments that become "crammed" due to the increased efficiency
・Decreased opportunities to interact with "family members," who are supposed to be the closest to us
・Increased number of people becoming mentally unstable as analog people try to adapt to the digital society
In this day and age, I believe that it's important to keep in mind the good feeling that analog provides, and the comfort that lies between digital and analog, as well as to live a more mindful life.
I would like to propose an analog life that will make you feel "at ease" from the bottom of your heart.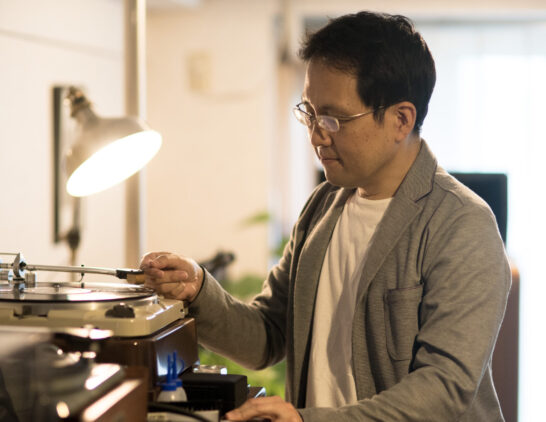 Yasushi Yurugi
I am the organizer of "ZOOT Communication LLC," a company whose main business is the planning, development and sales of analog-like products.
Born in Kyoto, Japan
After graduating from an art university, I worked as a designer for a while, and then worked for a manufacturer in charge of product planning, development and new business development.
In addition to design and product development, I also experienced marketing.
Afterwards, in the heyday of networks and IT, I was involved in the development of new businesses related to digital technology and the Internet, but I felt a bit strange about the current trend in the world to prioritize efficiency and sales.
While digitalization has made us more efficient and convenient, it has also made it more difficult for people to find happiness and satisfaction, so I decided to start my own business in order to develop products and services that can support people's natural sense of happiness despite my limited ability.
I first encountered music when I was a student. I got into playing instruments and was mainly a drummer in a band. I performed many times at live houses in Kyoto.
Later, I got into jazz and started playing the tenor saxophone.
Among jazz players, I fell in love with Zoot Sims in particular, and started the world's only "Zoot Sims Fan Club." (Officially recognized by Mrs. Luise Sims who is the wife of Zoot Sims)
http://zootsimsfanclub.net/
(Sorry, only Japanese)
I never doubt that records have the best sound quality for listening to music, and I live with a collection of several thousand records and eight turntables.
I am currently developing products that solve the difficulties associated with living an analog record life, and delivering them as products to fans of analog records around the world.
The Analog Relax products that I produce are made with care by wonderful Japanese craftsmen.
I do not only pursue materials and performance, but also give top priority to making you happy when you use my products.
I would be very happy if you like Analog Relax products.
What is ZOOT? = ZOOT (the word for "always" in Japanese) with customers
= We wish to keep a relationship with our customers for a long time! That concept has also been combined with my all-time favorite jazz tenor saxophonist, Zoot Sims.